Because I am a follower, I too am going to do a Top Ten Tuesday list.
This week's topic is the Top Ten Foods I would make out with, if making out with food was even remotely possible.
Can I tell you that I have a hard time picking out just 10 things?
10) Chili's Southwestern Egg Rolls. Because obviously...
9) German ham and potatoes. Tangy. Warm. Comforting. So yummy.
8) Strawberry Shortcake
7) Gnocchi.
6) Cheesecake. Of most any persuasion.
5) Macaroni Grill Chicken Caesar Calzonetto. Do I need to say any more than Pesto Aioli?
4) Banana pudding with vanilla wafers
3) Grilled Peanut Butter and Jelly. Childhood favorite. Simple and so good.
2) Döner Kebab. I never want to leave Europe because of the Döner. It doesn't look yummy. But it is definitely ambrosial.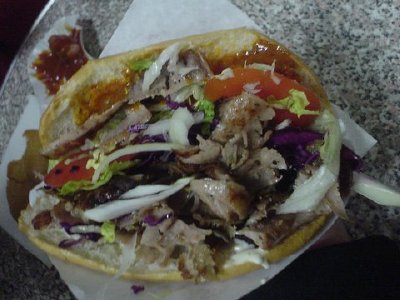 1) Sweet potato casserole. But only if it's made with pineapple, walnuts, brown sugar, and marshmallows.
I am utterly shocked at the limited number of sweets on this list. But nothing seemed to come to mind when I was making this list.
Head over
One Thing
, where Top Ten Tuesday is hosted, to find out what food everyone else is in love with.
Erica
and
Tiffany
played along as well. It's how I was "peer pressured" into it. (wink)
*All of these images were snagged from Google image search. Being the dork that I am, I completely forgot to save the addresses to give proper credit. I apologize profusely for being such a dolt.*